Come train at Maria The Trainer's Studio in Severna Park, MD.   After doing an initial intake session to better understand your goals, she will create a systematic and thoughtful fitness program that both challenges you and ensures you achieve results.  Your sessions together are constantly varied so that you have fun, stay engaged and continue to see fitness gains. Her specialties include rowing, strength training, Olympic lifting, functional training, mobility, metabolic conditioning, and sports performance, enhanced speed and agility, as well as weight gain, loss or maintenance goals.
Maria specializes working with athletes of all abilities, the 50+ year old crowd, pre/post natal moms, kids of all ages, the every day person looking to lose fat, gain muscle and have a better quality of life.
I come to you at your convenience for In-Home Personal Training in a truly a customized approach to meeting your needs as an individual.
I offer one on one and small group training services. Contact me below and let me know what you're looking for.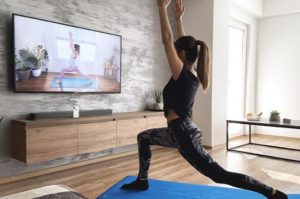 Virtual training is simple! All you need is a computer of some sort (PC or Mac, desktop or laptop, even an iPad will do it!), an internet connection, and FaceTime or a Zoom account. Next you need some space to workout.  It doesn't have to be a lot of space, it can be indoors or outdoors.  If you have exercise equipment, great!  If not, no worries, you body weight can be challenging enough even for the most fit individuals.