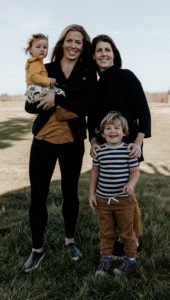 I am driven to help others realize their full potential.
I have been a fitness and wellness coach for more than 20 years as well as a lifelong athlete. I started playing basketball when I was 8 and practiced diligently everyday since until I walked onto the women's basketball team at Gonzaga University. While on campus, I was recruited for the rowing team and took on playing two D1 sports my freshman year. That was probably one of the most physically challenging times of my life. What I know to be true is that if you want to be great at something, then you need to commit to it whole-heartedly. As such, I chose rowing and set my sights on making an Olympic team. I was a two-time All-American rower and trained for 7 years post-grad at the elite level. I was ranked as one of the top 25 rowers before I retired from rowing in 2011. Even though I never made an Olympic team, I gave it everything I had and then some. I found my peak performance. I excelled in ways I never imagined and failed a lot along the way. It was this journey of ups and downs, wins and losses, that made me realize achieving your full potential is not destination but a lifelong journey.
Today, I'm a full time personal trainer and rowing coach. For years as an athlete and coach, I witnessed people training diligently at the gym or on the water and never reach their fitness goals. What was apparent to me, but not to them, were two things: One, you don't always have to work harder to reach your fitness goals; you just need to work smarter. Two, what works for one person doesn't apply to everyone.
What I'm best in the world at is seeing my clients for who they are – not who they think they should be. Often times, when we operate from a place of where we think we should be, and not where are, we set ourselves up for failure, disappointment, and injury. By meeting my clients where they are, I am able to work within their strengths, weaknesses, and limitations so that they find success and become who they aspire to be.  I treat and respect each client as their own unique person knowing that no two people are alike. It's through this process that I am able to help my clients achieve longterm results.
Lastly, I want you to know that I am so much more than just a trainer. I'm a wife to an incredibly strong, driven, and talented woman.  With her I have two beautiful children who are non-stop entertainment. I'm also an environmentalist, a lover of nature, and a community builder. I strive to constantly learn and evolve with fitness by enhancing my understanding of health as well continually challenge myself as an athlete. I've grown from basketball player into rower, into CrossFitter, and now tennis. With each new educational course I take, sport I play, and hike I embark on, I am challenging myself  to realize my full potential, and I hope one day to help you realize yours.
Education
Bachelor's in Exercise Science
ACSM Certified Personal Trainer
AFPA Pre and Post Natal Exercise
ACE Youth Fitness Specialist
US Rowing Level 2
Australia Rowing Level 1
Coaching Experience
VIDA Fitness, U St. Washington DC –  Personal Trainer
MB Fitness LLC, Washington DC – Head Coach/Owner
Potomac Boat Club, Washington DC – Master's Women's Head Coach
The George Washington University, Washington DC – Assistant Women's Rowing Coach
Potomac Boat Club, Washington DC – U-23 Sculling Coach
Thompsons Boat Center, Washington DC – Head Lightweight/Assistant Open Weight Coach
Methodist Ladies College, Sydney AUS- Head Rowing Coach
Saugatuck Junior Rowing, Westport CT- Rowing Coach
Rowing Experience
2009-2011 Potomac Boat Club: Elite Sculling Group
2005 Princeton Training Center: National Team Selection
2004-2005 Saugatuck Rowing Club: Olympic Athletes Rowing at Saugatuck
2000-2004 Gonzaga University Rowing
2003 National Team Pre-Elite Camp
2001, '02, '03, '04 Vesper Boat Club Pre-Elite Summer Camps
2000 National Team Pairs Camp, University of Washington
Achievements
All-American Rower 2003 & 2004
Gonzaga University Senior Women's Athlete of the Year 2004
All WCC (West Coast Conference) 2002, 2003, 2004
All WIRA (Western Intercollegiate Rowing Association) 2002, 2003
CRCA (Collegiate Rowing Coaches Association) All-West Region First Team 2003, 2004
CRCA All-West Region Second Team 2001, 2001
Royal Canadian Henley Gold Medals Senior A Eight 2003, Senior B Eight 2003, 2004, Championship Eight 2003
ECAC (Eastern Collegiate Athletic Conference) Varsity Eight: Bronze Medal 2001, Silver Medal 2002, Gold Medal 2003
Schuylkill Navy Regatta Women's Senior Eight Gold Medal 2002
WCC Champion 2001, 2002, 2003, 2004
WIRA Varsity Eight: Silver Medal 2001, Gold Medal 2002, Silver Medal 2003, Bronze Medal 2004
​