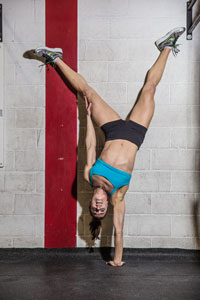 "What a disgrace it is for man to grow old without ever seeing the beauty and strength of which his body is capable." -Socrates
I have been a fitness expert and wellness coach for the past fifteen  years and train clients internationally.  My clients are individuals of all abilities and fitness levels and I love helping them to achieve not only their health and fitness goals but their life goals as well.  My innovative techniques, education and expertise guide individuals to create a healthy lifestyle they can maintain day to day.  Working with expecting moms, seniors, athletes, and kids, my goal is to motivate my clients to have more than just a fit body.  I want to help them create a happy and healthy life that they love.
Although I'm most known as a personal trainer I'm also an international level rowing coach having coached in Sydney, Australia at the Methodist Ladies College. Nationally I coached at The George Washington University, Vesper Boat Club in Philadelphia, PA and I'm currently at Potomac Boat Club in Washington DC where I hold private rowing lessons.
I have a great love for the outdoors so in addition to personal training and coaching rowing, I also coach a boot camp at Meridian Hill Park in Washington, DC during the spring and summer months. The boot camp is designed to push each member to their physical ability while also incorporating goal coaching into each session. Goal coaching is something I offer to all of my clients. It is my belief that to be healthy we need more than a healthy body; we need a happy and fulfilling life.
As an athlete, I'm a two-time All-American rower and trained as an elite rower for seven years in an attempt to make the US National Rowing team. I was ranked as one of the top 25 US rowers before I retired from rowing in 2011 to focus on the health and wellness of others.  I now love running, CrossFit, biking, water skiing, surfing, horseback riding, swimming and hiking.  Anything that get's me outdoors and moving in the sunshine.
Education
Bachelor's in Exercise Science
ACSM CPT
AFPA Pre and Post Natal
US Rowing Level 2
Australia Rowing Level 1
CrossFit Level 1
Achievements
All-American 2003 & 2004
Gonzaga University Senior Women's Athlete of the Year 2004
All WCC (West Coast Conference) 2002, 2003, 2004
All WIRA (Western Intercollegiate Rowing Association) 2002, 2003
CRCA (Collegiate Rowing Coaches Association) All-West Region First Team 2003, 2004
CRCA All-West Region Second Team 2001, 2001
Royal Canadian Henley Gold Medals Senior A Eight 2003, Senior B Eight 2003, 2004, Championship Eight 2003
ECAC (Eastern Collegiate Athletic Conference) Varsity Eight: Bronze Medal 2001, Silver Medal 2002, Gold Medal 2003
Schuylkill Navy Regatta Women's Senior Eight Gold Medal 2002
WCC Champion 2001, 2002, 2003, 2004
WIRA Varsity Eight: Silver Medal 2001, Gold Medal 2002, Silver Medal 2003, Bronze Medal 2004
​
Rowing Experience
2009-2011 Potomac Boat Club: Open Scullers
2005 Princeton Training Center: National Team Selection
2004-2005 Saugatuck Rowing Club: Olympic Athletes Rowing at Saugatuck
2000-2004 Gonzaga University Rowing
2003 National Team Pre-Elite Camp
2001, '02, '03, '04 Vesper Boat Club Pre-Elite Summer Camps
2000 National Team Pairs Camp, University of Washington
Coaching Experience
VIDA Fitness, U St. Washington DC –  Personal Trainer
Stay True Training, Arlington VA – Head Coach/Owner
Potomac Boat Club, Washington DC – Master's Women's Head Coach
The George Washington Univeristy, Washington DC – Assistant Women's Rowing Coach
Potomac Boat Club, Washington DC – U-23 Sculling Coach
Thompsons Boat Center, Washington DC – Head Lightweight/Assistant Open Weight Coach
Methodist Ladies College, Sydney AUS- Head Rowing Coach
Saugatuck Junior Rowing, Westport CT- Rowing Coach
​
Ready to get fit with Maria?